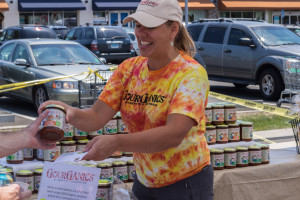 Sarah has always loved to cook meals with fresh, organic and locally grown ingredients. At a neighborhood gathering, her neighbor and friend Jane exclaimed "why don't you bottle this delicious salsa?" and right then and there, GourGanics was born.
Growing up, her grandparents – "Mem and Pep Mathieu" – were an important influence on her cooking life. These former French Canadian farm kids taught her all about growing a successful garden and celebrating the fruits of their labor at the family table, with crunchy fresh salads, delicious soups, and other tasty concoctions. With those learned skills and a whole lot of time on her hands, she whipped up the most delicious salsa that your chips will ever meet.
She also began experimenting by cooking with GourGanics and found it to be a flavorful, savory simmer sauce. Unlike many other commercial organic salsas, GourGanics is made with fresh and local USDA organic ingredients. That means it can stand up to a second cooking as a tasty simmer sauce. You'll find lots of great recipes and cooking ideas on our site.
Sarah has many exciting and delicious ideas for GourGanics and keeps working away in her kitchen in Fairfield, CT. Check out the recipes here, or drop GourGanics a line. We love hearing from our fans.