The GourGanics mission is simple: make great organic salsa that folks will enjoy and share with their friends. So we use the freshest, finest heirloom plum tomatoes, organic hard neck garlic, delicious bright green bell peppers, crisp and delicious onions. Everything is picked from the vine and put in our jars within a matter of days. We also use a delicious medley of organic herbs and spices. Everything in our jar is certified organic and 100% delicious.
We use USDA Organic, sustainable produce from farms and sources as local as possible. We carefully craft our salsa and simmer sauce in small batches using homestyle methods. Our products are grown and produced without the aid of pesticides, man-made fertilizers, or (GMOs) genetically modified organisms. This creates a pure and better tasting salsa. And you can find tons of recipes right here on our Website. So start cooking with it!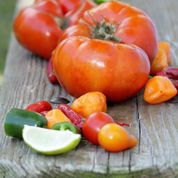 GourGanics is a great way to eat local, sustainable food, all year long.
GourGanics is rich in vitamins you need, with no fat or cholesterol.
GourGanics is tasty as all get out, what more do you want?
There's nothing like a New England tomato at the peak of season.
Enjoy GourGanics as a salsa or use it to make a meal that tastes too good to be good for you – but it is. 
Pick some up today!